Architects consider every variable associated with the form & function of a building – aesthetics, functionality, cost, environmental sustainability, structural integrity, serviceability and code compliance among a plethora of other variables. There is one variable however that most architects do not currently consider and yet it has the ability to fundamentally, and often negatively, alter the design of a building: Fire safety.
Most architects have a fundamental understanding of Building Codes and Standards and fire safety engineers work closely with architects to design fire safe buildings, but for some reason fire engineers have never worked for architects. Our unique service allows for an in-house fire engineer to work throughout the development as part of the architectural/engineering design team. The result is a fully engineered approach to fire safety and architectural design allowing for significant value add to the development.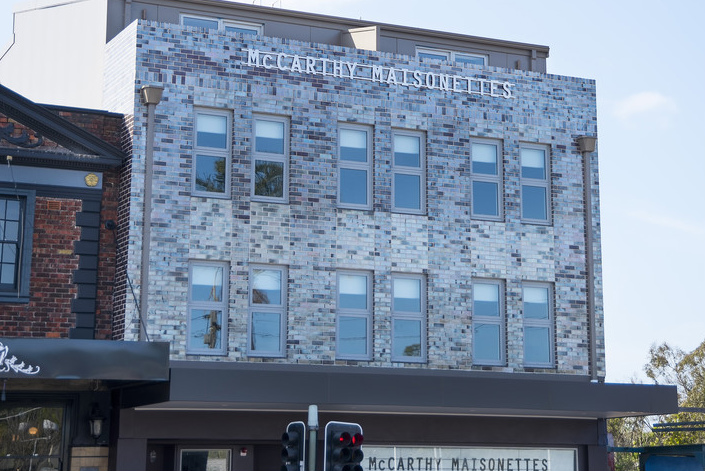 McCarthy Maisonettes Annandale
Design:environastudio

For the past 12 months a member of the Fahrenheit Fire Engineers worked with Envirostudio architects, PRA Constructions & Coleman Group to help design and develop a secure, fire safe,  5 star studio apartment complex. This unique experience was one of several progressive ideas developed by Fahrenheit Global.
It was initially thought that the Fire Engineer employed in this role would solve fire safety problems for the design team (including architects and engineers). In fact the fire engineer solved numerous design issues by way of fire engineered alternative solutions allowing for an increase in floor space ratio, minimising slab thickness and therefore lowering  overall construction costs.
The reason for the change was simple. If specific fire safety problems were not dealt with during the design stage the lack of integration would mean the architects would have to compromise on other parts of the design for the fire strategy to work.
The Signature  Vaucluse
Design:BMA Architects

Architects have to consider every variable associated with the design of a building, all of which must be integrated if the building's design is to be optimised. Once the architect know what they are trying to achieve, they are able to create some extraordinarily innovative solutions to solve fire safety problems, all of which are optimised for their unique building.
Some Architects lack confidence in their own ability to create fire safe solutions and require the recommendations of fire safety 'experts' often despite knowing that their own solutions made sense conceptually. Fahrenheit Global are able to assess and criticise solutions put forward by the architects, developers an other consultants. 
The Garden Tower – Tel Aviv
Design: Pivco Architects
Fahrenheit Global were able to create a fire-safe solution for the uniquely designed Garden Tower in Tel Aviv, allowing for the lift and fire stairs to open directly into each unit as the initial design by Pivco Architects proposed only one unit per level. By producing a fire safe design with the architects requirements  in mind Fahrenheit Global created a fully optimised building allowing for maximum floor space per level as the engineered design allowed for no common areas on floors.
Fahrenheit Global's International experience demonstrates our global perspective and our ability to understand and relate complex technical information to a diverse design team. The addition of a fire safety advisor to the design team allows every variable associated with the form & function of a building to be considered – including fire safety – and designers will have the ability to fundamentally, positively alter the design to produce a better building.